Shortage of staff and lose of know-how
Inadequate local and regional integration of employees can become an obstacle, since this can result in employees becoming demotivated or even changing their job.

To take account of the individual life situation
New employees are often insufficiently integrated into companies and organisations and their local and regional surroundings. This may result in the employer becoming unable to rely on them in the long-term. In most cases, the employees participate in the working day but they are insufficiently integrated socially and culturally in their new living environment. This becomes apparent in a lack of friends, problems with the admission in daily activities, lack of participation in hobbies and interests. The effect becomes even more intense for employees from a foreign background because of insufficient language skills and cultural obstacles. More often the employer neglects or completely fails to integrate employees' immediate family members. The result being that they fail to integrate in their new living environment, or at least with great difficulty. The consequences can range from a rapid demotivation of the employee to resignation from the job (and returning home).
The aim of companies and organisations is to develop loyal employees in the long-term because they will gradually payback the effort invested in them and retain knowledge within the company. Furthermore, in some industries it is difficult to fill vacant positions because of a rising shortage of skilled labour. Emerging vacancies may cause a negative effect on a company or organisation.
In practice, there is rarely a planned integration of employees and their families that speak the language of the host country. Therefore, it is becomes the duty of the employees themselves to integrate. Perhaps, aided by official and unofficial events and sports programmes.
For foreign-language employees, the usual practice is to support their regional and local integration via language courses and government-assisted integration courses. However, this is not a holistic approach. In addition, the available offers are often inflexible regarding the course schedule and contents. Such offers are not customised to the needs of individual employees. In particular, social integration into the new living environment and daily life issues (friends, acquaintance, interests) are completely neglected and the new employees are left to their own devices.
It must be the objective of companies and organisations to increase the satisfaction of the employees and to support them with the achievement of a stable living and working environment. This is the only way to fully integrate employees within a company or organisation and to limit costs related to recruitment, training of replacements, vacancies and the loss of knowledge. Each employee should be retained within the company or organisation as long as possible.
Our services
Employees are the success factor
Locally and regionally embedded
Specific development of employees and their families
With our integrated coaching approach we make sure that your employees really feel at home with you. We connect personal coaching and life coaching with language and cultural education to create customised concepts for your employees and their families. Our range of services includes: assistence in professional and private matters, promotion of a culture of acceptance within the company or organisation, and mediation in conflict situations.
Our approach goes far beyond the offers of other providers and is self-contained, which makes it easier for you and your employees. Our coaches serve as contacts for any situation. This might be for a limited period to help the employees to adjust to the new living and working environment or in the form of continuous long-term assistance.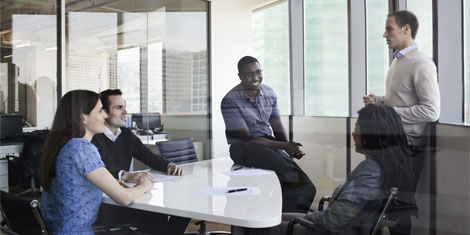 Sub-areas and individual issues
Approaches of solutions for individual issues
Life coaching
Employees and their families need to solve a lot of private and social tasks in their daily lives to properly adapt to the new living environment. The range of issues includes such items as potential recreational activities, questions about local interest groups, and support with developing a new circle of friends. For employees that arrive from foreign countries we can also add to the agenda issues such as tasks and duties in dealing with third parties, schools and educational system, adequate insurance protection, choosing a doctor, dealing with the social insurance system, conversion or acquisition of drivers licences etc. Our coaches serve as a central contact for all areas of life.
Language teaching
We deliver German language skills by tutoring individuals or small groups. The course contents are adapted to the language level and to the pace of the individual learner. The contents of the language course are drawn from life so that the course participants will immediately gain a sense of achievement in their daily life. The tuition is delivered by qualified language specialists and also includes continual exposure to different native speakers. Besides lessons in classrooms the course also contains real exposures to everyday situations, for example, shopping or visiting a restaurant. The aim of the tuition can range from essential skills to cope with everyday situations and the preparation for recognised language examinations (A1 to C1).
Integration training
We deliver an insight into German culture, values, and history in the form of individual tutoring or in small groups. The training programmes include basic topics about life in Germany, the legal system, the democratic system, and social interation as well as the historical and cultural backgrounds. In the process we also go into detail on regional differences.
Supervision
We accompany employees and their family members during interactions with public authorities, visits to doctor's offices, and other appointments should language support be necessary. The mediation is performed in German-English, English-German, or (if possible) also in the respective native language.
Cultural training & preparation
Employees that are aware of cultural differences in relation to colleagues from other countries are able to react more appropriately to potential misunderstandings, or can even avoid them entirely. In cultural and intercultural training programmes we deliver to your employees a fundamental understanding of the relevant issues. We offer them proper insights into the current circumstances of the countries of origin of their new colleagues, to enable a deeper understanding. This greatly improves the interaction in international teams and also helps with the social integration of new employees.
Mediation in conflict situations
Our qualified mediators support you in avoiding and overcoming acute conflict situations that result from cultural misunderstandings, misinterpretations and real misbehaviour. In individual and group sessions we help your employees to develop approaches solution-based approaches and to recognise their own mistakes in interactions with their colleagues. The aim is it to achieve a reconciliation between the individual stakeholders and therefore to allow a restart of the internal dialogue.
Our offer is aimed at companies that
Want to recruit foreign employees

Want better integrated employees

Want to develop cultural understanding
Want to support individual employees

Are dissatisfied with existing approaches

Want to solve conflict situations
How can we support you?
We help you to identify pitfalls and obstacles