Strengths, weaknesses opportunities, and threats
Base your decisions on reliable data

Reduce mere chance in the decision-making process
A good database is a prerequisite to making the right decisions. This database is needed to determine opportunities and threats in order to contrast them with one's own strengths and weaknesses. Without sufficient information about the current status of the company or organisation as well as knowledge about the relevant stakeholders, all goals, strategies, and measures are wasted. Inaccessible goals, misrouted strategies, and measures, which are rendered ineffective, will cause the project to fail — ultimately leading to the dissatisfaction of all stakeholders. An enormous potential for conflict develops, which might evolve into an existential threat for the company or organisation.
Without an appropriate basis for information, all results of decisions are mere chance.

General
We help our clients to analyse their precise market environment, internal operation processes, and specific conflict situations. This way, we provide the necessary information for decision makers. Depending on the project, we support you in preparing the data collection, selecting suitable test parameters, developing survey questionnaires, collecting the data as well as in evaluating and interpreting the collected data.
External analyses
The aim of external analyses is to investigate the precise market environment in order to identify opportunities and threats at an early stage – i.e. to use possibilities to bypass pitfalls. The focus of external investigations is mostly regions, markets, target groups, and competitors — either generally or in relation to products and services. Other objects of investigation might be areas such as investment opportunities and location factors.
Internal analyses
The aim of internal analyses is to expose strengths and weaknesses or to examine current conflicts. The collected information is necessary for developing suitable measures to close gaps or to improve potential. The focus of internal investigations are organisational units, processes, sequences of operations, teams, and individual employees (e.g. within personnel development programs). We bring the required neutrality to processes — especially in the case of direct employee surveys. As a result, the quality of the responses is improved and potential conflicts are minimised. Our cross-industry and external perspective on our clients' operative business helps to monitor and evaluate processes and workflows.

Improving the quality of decisions
We help you to obtain the necessary data for your decision-making process. We support you in the preparation, realisation, and evaluation of external opportunities and threats as well as internal strengths and weaknesses.
Direct feedback from customers and information about the characteristics of your markets are only two examples of market data we can obtain so you can get a sufficient overview of your business environment. Along with an analysis of your internal strengths and weaknesses you will receive a detailed summary of your current situation, which will help you to considerably improve the quality of your decisions.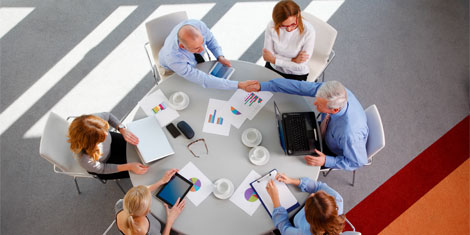 How can we support you?
We help you to identify pitfalls and obstacles